Suggestion:
Make Tomb generals (Jhin, Hyun, Bi, Ho) spawn at random locations inside the Donwhang cave.
pls
---
Change level 90 mobs to drop dg 9 elements
here's what it drops atm, it's dg10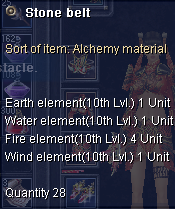 ---
Posts: 3
Joined: Wed Jul 12, 2017 10:24 am
I've just noticed that the essences ( the mobs around the roc that we have to kill then he spawns ) are lvl 136 so i think it's kind of impossible to kill them all , Also think that the roc will be lvl 145 like in old Dr so hope that will be fixed
---
Alchemy materials still need to be buffed - what i've seen a lot of players say

---
i have to agree the drop rate of alchemy mats
the current rate would be enough for a 4+ month old server but atm its very low esp as we cant trash equipment for elements
DJB

---
Keep in mind, that the server is a low rate server. You are NOT supposed to be Level 90, Fully geared with full blue and max plus items in a couple of days. Not even a couple of weeks.
I'm thinking of rewarding some Elements in some events, though. I'll see.
---
Good idea
---
I have some head up for various stuff..

1) The force mastery skills right now have very high probability (80%) which is highly unstable atm I think. This was not the case in the original sro.
2)There seem to be a problem with the drop rate of protector items male last tier (lv 81-90) items...

Thanks in advance.
---
lvl 90 mobs in DW cave
can we change the alchemy drops to D9 not the D10 they still drop coz the d10 elements they drop are useless atm
DJB

---
Can you add egy or DRA prize to the talisman collection
Having a deppression at the moment.

---
Who is online
Users browsing this forum: No registered users and 1 guest